Sadaka Second High-level Forum
Israeli Apartheid: Developing Ireland's Strategy
Sadaka organised its second high-level forum in Dublin on 29 March 2022. This forum is an integral part of our ongoing campaigning to combat and challenge Israeli apartheid. The purpose of the forum was to create awareness of the final report of Professor Michael Lynk, the United Nations Special Rapporteur on the situation of human rights in the Palestinian territory occupied since 1967. This report to the UN Human Rights Council in Geneva concerned the breach by Israel of the prohibition against apartheid in international law.
Professor Lynk's UN report followed hot on the heels of the report by Amnesty International "Israel's apartheid against Palestinians: a cruel system of domination and a crime against humanity", which provided detailed evidence of the systematic and institutionalised regime of apartheid created by Israel in the entire territory from the Jordan river to the Mediterranean Sea as well as for the Palestinian refugee population. As UN Special Rapporteur Professor Lynk published two earlier reports in 2017 and 2021 on the situation in Palestine.
After giving the keynote address to the Forum and participating in discussions and debates, Professor Lynk continued on a Speaking Tour which included meetings with political parties, and civil society organisations, concluding with a meeting with the President of Ireland, Michael D. Higgins.
International definition of apartheid
Professor Lynk proposes three tests in international law which identify apartheid and why it is clear that Israel has met the standard to recognise its actions as apartheid. The three tests are:
"First, an institutionalized regime of systematic racial oppression and discrimination has been established. Israeli Jews and Palestinian Arabs in East Jerusalem and the West Bank live their lives under a single regime which differentiates its distribution of rights and benefits of the basis of national and ethnic identity, and which ensures the supremacy of one group over, and to the detriment of, the other. The differences in living conditions and citizenship rights and benefits are stark, deeply discriminatory and maintained through systematic and institutionalized oppression.

Second, this system of alien rule has been established with the intent to maintain the domination of one racial-national-ethnic group over another. Israeli political leaders, past and present, have repeatedly stated that they intend to retain control over all of the occupied territory in order to enlarge the blocs of land for present and future Jewish settlement while confining the Palestinians to barricaded population reserves. Under this particular system, the freedoms of one group are inextricably bound up in the subjugation of the other.

And third, the imposition of this system of institutionalized discrimination with the intent of permanent domination has been built upon the regular practice of inhuman(e) acts. Arbitrary and extra-judicial killings. Torture. The violent deaths of children. The denial of fundamental human rights. A fundamentally flawed military court system and the lack of criminal due process. Arbitrary detention. Collective punishment. The desperate living conditions in barricaded Gaza. The repetition of these acts over long periods of time, and their endorsement by the Knesset and the Israeli judicial system, indicates that they are not the result of random and isolated acts but integral to Israel's system of rule.".
Welcome and Opening Remarks, Marie Crawley, Chair, Sadaka
Israeli Apartheid – the International Legal Framework.
Chair: Éamonn Meehan, Sadaka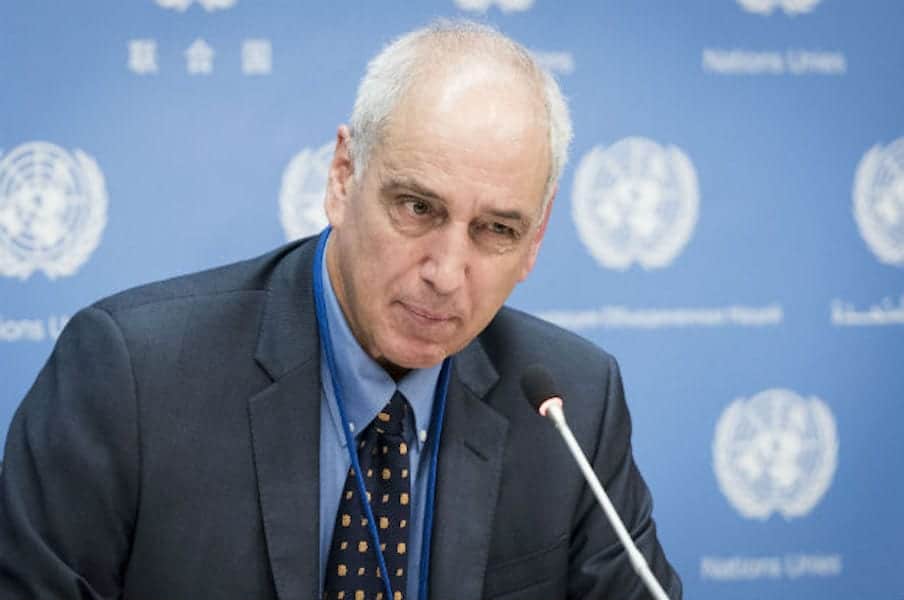 Keynote Address: Professor Michael Lynk: Israel's conduct of its occupation of the Palestinian Territory: a breach of the prohibition against apartheid in international law?
We were fortunate to welcome Professor Michael Lynk as the keynote speaker. Professor Lynk was appointed Special Rapporteur on the situation of human rights in the Palestinian Territory occupied since 1967 in 2016. He is Associate Professor of Law at Western University in London, Ontario, where he teaches labour law, constitutional law and human rights law. Before becoming an academic, he practiced labour law and refugee law for a decade in Ottawa and Toronto. He also worked for the United Nations on human rights and refugee issues in Jerusalem. Professor Lynk has written widely on labour law and human rights issues in Canada and has also published articles on the application of international law to the Middle East. He has regularly acted as a labour arbitrator in Canada, speaks frequently at labour law and industrial relations conferences and has advised governments and international organisations on labour law and human rights issues. Professor Lynk received his B.A. (with honours) and his LL.B. from Dalhousie University and completed his LL.M. at Queen's University, Ontario, in 2001.
Professor Lynk made a number of recommendations to the conference, including that the international community recognise the crime of apartheid as practised by Israel against Palestinians, introduce accountability measures to ensure Israel's behaviour in this regard is no longer cost-free, support applications to the International Criminal Court (ICC) and the International Court of Justice (ICJ) with respect to the legal consequences for Israel of its apartheid regime, and to support the re-establishment of the United Nations Special Committee Against Apartheid "to investigate any and all practices of systematic discrimination and oppression purportedly amounting to apartheid anywhere in the world, including in the occupied Palestinian territory". 
Rania Muhareb: Apartheid and Settler Colonialism: Mobilising against the Root Causes of Palestinian Oppression
Rania Muhareb is an Irish Research Council and Hardiman PhD scholar at the Irish Centre for Human Rights at the National University of Ireland, Galway. She is a policy member of Al-Shabaka, the Palestinian Policy Network and a former legal researcher and advocacy officer with the Palestinian human rights organisation, Al-Haq. Rania holds an LLM in international human rights and humanitarian law from the European University Viadrina Frankfurt (Oder) and an undergraduate degree from Sciences-Po Paris. Her PhD research examines the concept of apartheid and its relevance to the situation in Palestine.
Questions and Answers Session 1: Israeli Apartheid – the International Legal Framework.
Chair: Éamonn Meehan, Sadaka
Apartheid in practice: ethnic cleansing, population transfer and segregation.
Chair: Mona Sabella, Sadaka
Dr. Mustafa Barghouti: Apartheid – the Lived Reality
Dr. Mustafa Barghouthi is a Palestinian physician, a social, political, human rights and peace activist and politician who serves as General Secretary of the Palestinian National Initiative (PNI). He has been a member of the Palestinian Legislative Council since 2006 and is also a member of the Palestine Liberation Organisation (PLO) Central Council. In 2007 Barghouthi was Minister of Information in the first National Unity Government in Palestinian history. He was a presidential candidate in the elections of 2005 as a representative of the Palestinian National Initiative, on an anti-corruption and pro-democracy platform, achieving second place behind President Mahmoud Abbas, with almost one third of total votes. Dr. Barghouthi is an outspoken advocate of internal reform, an international spokesperson for the Palestinian cause and a leading figure in the non-violent, peaceful struggle against the Occupation. Dr. Barghouti is one of the most active grassroots leaders in Palestine.
Dr. Yara Hawari: The manifestations of apartheid from the Jordan River to the Mediterranean Sea.
Dr Yara Hawari is the Senior Policy Analyst at Al-Shabaka, the Palestinian Policy Network, an academic and author. She completed her PhD in Middle East Politics at the University of Exeter where she taught undergraduate courses and continues to be an honorary research fellow. Her work covers all areas of politics in Palestine and Israel, as well as issues related to international law and advocacy. Yara is a frequent political commentator for mainstream media outlets as well as active academic publishing in various journals. She hosts the Rethinking Palestine podcast and her first book, The Stone House, was published in December 2021 to much critical acclaim.
Questions and Answers Session 2: Apartheid in practice: ethnic cleansing, population transfer and segregation.
Chair: Mona Sabella, Sadaka
Developing a Coherent International Response to Apartheid.
Chair: Caoimhe de Barra, CEO, Trócaire.
Daniel Levy: Opportunities and vulnerabilities of the apartheid framing in the international arena
Daniel Levy is President of the U.S. / Middle East Project. From 2012 to 2016, he was Director for the Middle East and North Africa at the European Council on Foreign Relations. Prior to that he was a senior Fellow and Director of the New America Foundation's Middle East Taskforce in Washington DC and a Senior Fellow at The Century Foundation. Earlier he worked as an analyst for the International Crisis Group's Middle East Programme. Daniel Levy was a Senior Advisor in the Israeli Prime Minister's Office and to Justice Minister Yossi Beilin during the Government of Ehud Barak (1999-2001). He was a member of the official Israeli delegation to the Israel/ Palestine peace talks at Taba under Barak and at Oslo B under Yitzhak Rabin (1994-95), as well as being lead drafter of the model peace agreement ("Geneva Initiative"). Levy is a Trustee of the Rockefeller Brothers Fund in New York, a Council Member of the European Council on Foreign Relations and serves on the board of the European Middle East Project. He was a founder of J Street and a founding Board member of Molad – the Center for the Renewal of Israeli Democracy. Levy was a founding editor of the Middle East Channel at foreignpolicy.com and is a regular Middle East commentator on TV and radio, including with BBC, CNN, and Al Jazeera, and has been published in various outlets among them the NYT, FT and Guardian.
Inès Abdel Razek: What is a coherent response to apartheid in Palestine and internationally?
Inès Abdel Razek is the Advocacy Director for the Palestine Institute for Public Diplomacy (PIPD) and its digital platform Rabet, an independent Palestinian organisation focusing on international mobilization and digital campaigning. Prior to joining the PIPD in 2019, Inès held policy advisor positions in the Union for the Mediterranean in Barcelona, the UN Environment Programme in Nairobi and the Palestinian Prime Minister's Office in Ramallah, where she focused on international aid for development policies. Inès is also an advisory board member of the social enterprise BuildPalestine and policy member at Al-Shabaka, the Palestinian Policy Network. She speaks fluent French, Arabic, Spanish and English and holds a Master's degree in Public Affairs from Sciences-Po, Paris.
Gerry Liston: The Occupied Territories Bill - where to next?
Gerry Liston has been Legal Officer on the Board of Sadaka since 2013. Gerry is employed as Legal Officer with the Global Legal Action Network (GLAN). He leads GLAN's work on challenging trade in goods produced with forced labour, most recently focusing on EU trade measures which relate to cotton produced with forced labour in Uzbekistan. Gerry also manages GLAN's climate change litigation work which explores the possibility of taking cases against multiple States to international courts, challenging their failure to properly tackle climate change. Gerry also works on seeking accountability for torture and other serious human rights violations. In 2016, he helped to initiate a private prosecution brought in the Irish courts against the Attorney General of Bahrain on behalf of a Bahraini torture survivor. In addition to the initial drafting of the Control of Economic Activities (Occupied Territories) Bill 2018, Gerry also assisted in the drafting the Fossil Fuel Divestment Bill which requires Ireland's sovereign wealth fund to divest from fossil fuels (a world first). Gerry led Sadaka's campaign on the Occupied Territories Bill (OTB) since it was first tabled in 2018 and continues to act as legal advisor for the OTB Campaign. Gerry is a qualified solicitor in Ireland and holds an LLM from the Irish Centre for Human Rights, where he is currently a part-time PhD student.
Questions and Answers Session 3: Developing a Coherent International Response to Apartheid.
Chair: Caoimhe de Barra, CEO, Trócaire.
Political Panel of Foreign Affairs Spokespersons: Responding to occupation, annexation and apartheid
Chair: Marie Crawley, Sadaka.
John Brady TD (Wicklow), Sinn Féin
Gino Kenny TD (Dublin Mid-West), Solidarity/People Before Profit
Senator Vincent P Martin (Kildare), Green Party
Senator Rebecca Moynihan, Labour Party
Conference Concluding Remarks: Éamonn Meehan, Sadaka.